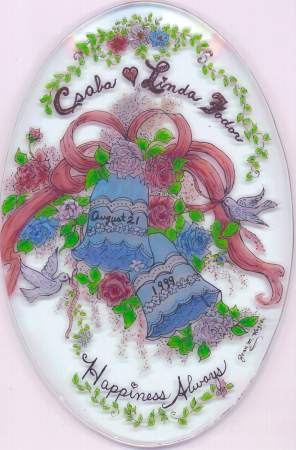 This 6x9 inch bevel, hand painted with a Wedding Bell motif, and customized with the bride's name, the groom's name, the date of the wedding, and a message, was built into a lovely window panel by the mother of the bride.

It could also have been "framed" with ladder chain (see Design A, page 10.4) and hung in a window as a sun catcher. Custom artwork, hand painted and kiln fired into clear bevels, is available in many colors and designs. Bevels can be personalized with names, dates, sayings, occasion, etc.

Price: Please Call - 6"x9" bevel - Wedding Bell, customized with Bride's name and Groom's name

Questions or comments? Click here to contact me. Or call

.
Page 10.6