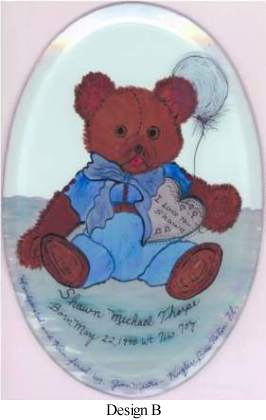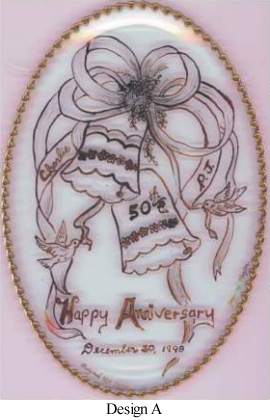 Teddy has been very popular, I have painted Tan, White, and Brown bears so far. The Wedding Anniversary design is all in 14K Gold outline. It is really beautiful. The birds are White. The photo here doesn't do the piece justice (gold on bevels is really difficult to scan and get a good color).

These 6x9 inch bevels can be used as the center piece of a stained glass panel or they can be "framed" with ladder chain (as shown in Design A) and hung in a window as a sun-catcher.

The durable hand painted artwork is kiln fired into clear glass bevels. Bevels can be personalized with names, dates, sayings, occasion, etc.

Price: A or B, Please Call


Questions or comments? Click here to contact me. Or call

.
Page 10.4