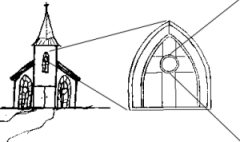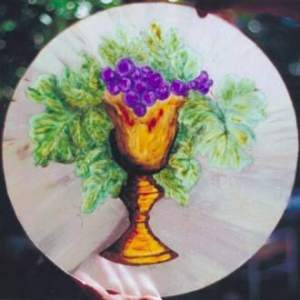 Click on picture above for a larger version.
Hand painted with a chalice, grapes and leaves, this 15 inch diameter circular plate was used to make a beautiful church window. The durable hand painted artwork is kiln fired into a pre-cut stained glass piece. Hand painted stained glass pieces are available in many colors and designs. Since each one is custom painted, I can match your needs or design style. Glass paintings can be personalized with names, dates, sayings, occasion, etc. This plate is being used as the centerpiece in a window, for a church in Colorado. The church is on the "Historical Registry for Churches", and is currently under restoration.

Price: Plate for Church Window - Custom Designs - up to approximately 15" in diameter - call for a free estimate.

Questions or comments? Click here to contact me. Or call

.
Page 15.1