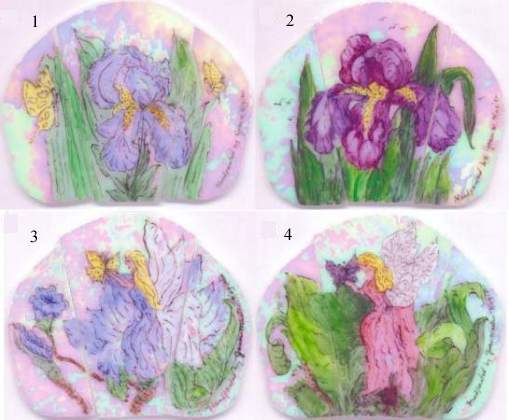 Hand painted with floral and pixie motifs, these three piece glass painting sets make beautiful Art Lights (night lights). The durable hand painted artwork is kiln fired into pre-cut stained glass pieces (various colors available). Since each one is custom painted, I can match your decor and design style. Glass paintings can be personalized with names, dates, sayings, occasion, etc. These night lights are great in bathrooms, kid's rooms, dark hallways, kitchens, living rooms, bedrooms, guest rooms, etc. They also make great Hostess gifts, birthday presents, and gifts for other occasions.

Price: #1, #2, #3, or #4, Please Call - Art light kit (just the glass pieces). We have Night light kit electrical parts available.

Call for prices on assembled items.

Questions or comments? Click here to contact me. Or call

.
Page 14.6