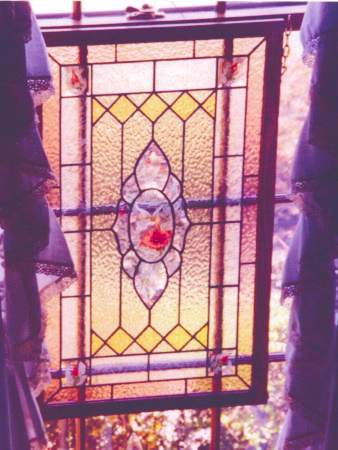 This stained glass panel was built by Brad for his home. Did you notice, he asked me to paint him four 2" x 2" bevels for the corners in his design? Great touch, don't you think? The nine piece bevel cluster in the center is hand painted with a Humming Bird and floral motif. The over all size of the bevel cluster is approximately 5.5"w x 12"h. This stained glass panel would also make a beautiful side light for an entry door.

The durable hand painted artwork is kiln fired into a clear glass bevel cluster set. Hand painted bevels are available in many colors and designs. Since each one is custom painted, I can match your decor and design style. Bevels can be personalized with names, dates, sayings, occasion, etc

Questions or comments? Click here to contact me. Or call

.
Page 8.11