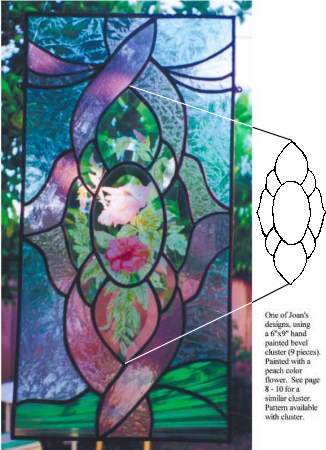 This one has deep Peach colored flowers and a Red-Throated Hummingbird on the approximately 3" x 5" oval bevel in the center. The floral motif is carried onto the rest of the bevels. I used Peach-Glue-Chip stained glass and Peach-Cathedral stained glass to form a ribbon around the nine piece bevel cluster set. I enjoy it a lot. It's in my living room window. The over all size of the bevel cluster is approximately 5.5"w x 12"h.

The durable hand painted artwork is kiln fired into a clear glass bevel cluster set. Hand painted bevels are available in many colors and designs. Since each one is custom painted, I can match your decor and design style. Bevels can be personalized with names, dates, sayings, occasion, etc

Questions or comments? Click here to contact me. Or call

.
Page 8.9