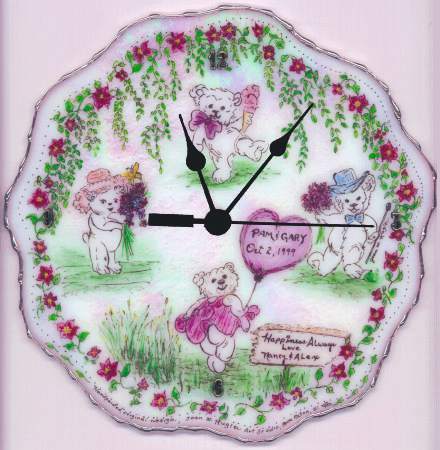 This happy Teddy bears clock was commissioned by Nancy, as a wedding gift for friends that are Teddy bear collectors. This custom design features the couple's names, wedding date, and a message. Nancy said, "They loved it!". If it had not had the couple's names on it, she would have been tempted to keep it, because she loves it too. The artwork is hand painted and kiln fired into White colored, iridized stained glass.

Hand painted stained glass clocks are available in many colors, designs, sizes and shapes. Since each one is custom painted, I can match your decor and design style.

Clocks may also be purchased assembled.

Price: Please Call - Clock kit - happy Teddy bears - approximately 8.5" diameter - 1 painted piece + clock motor, hands, etc.

Questions or comments? Click here to contact me. Or call

.
Page 6.4