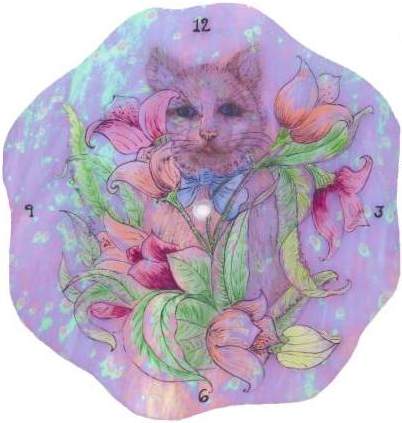 This clock was made for Jay to give to his mom, she's an animal lover. I later heard from Jay that she loves it. The artwork on the clock face is hand painted and kiln fired into White colored, iridized stained glass. The clock shown has a "kitty cat in the tulip bed design", and is approximately 6 inches in diameter.

Clocks may also be purchased assembled. Click here to see a picture of this clock assembled.

Clocks featuring hand painted, kiln fired custom artwork on stained glass. Clocks can be personalized with names, dates, sayings, occasion, etc. Hand painted stained glass clocks are available in many colors, designs, sizes and shapes. Since each one is custom painted, I can match your decor and design style.

Price: Please Call - Clock kit - kitty in tulips - approximately 6" diameter - 1 painted piece + clock motor, hands, etc.

Questions or comments? Click here to contact me. Or call

.
Page 6.3