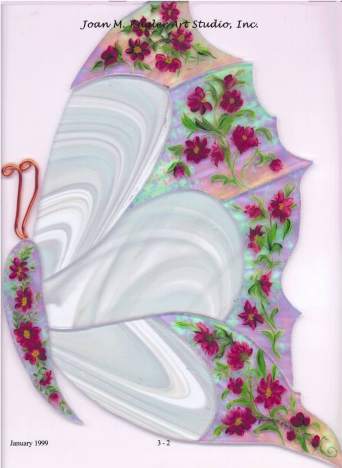 This eight piece butterfly mini-panel makes an excellent decorating accessory in home or office. It features flowers, hand painted and kiln fired onto White-Wispy colored, iridized stained glass wing tips and body, and main wing parts of White-Baroque colored stained glass. Very elegant.

The beautiful floral design is highly durable. Butterfly panels are available in many colors and designs. Since each one is custom painted, I can match your decor and design style. The butterfly shown is approximately 8 inches wide by 13 inches high.

Price: Please Call - Butterfly panel, Hand painted on "white whispy", with "white Baroque". 8 pieces. Call for price on finished panel.

Questions or comments? Click here to contact me. Or call

.
Page 3.2