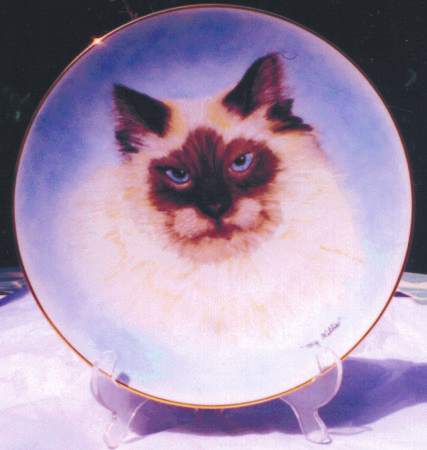 This portrait of a pet cat named Willie, was done for a customer to give as a gift to a dear friend as a birthday present. She supplied me a picture of Willie, without the other person knowing about it, and then supprised her with this plate. The recipient was very happy with the gift.

If you need a porcelain piece painted, let me know. I can paint any of the designs seen in this book on most porcelain pieces (for example, plates, cups, saucers, christmas tree ornaments, etc.). Or, if you need a new and original design, let me know.

Price: Portrait of a pet cat named Willie on a 12" diameter porcelain plate - call for a free estimate

Questions or comments? Click here to contact me. Or call

.
Page 18.1