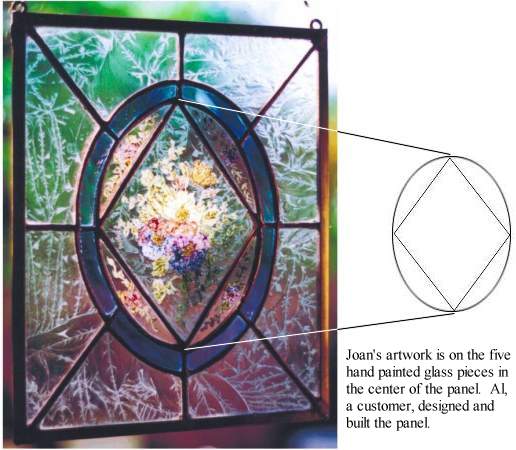 Hand painted with a floral motif, this five piece glass painting set is shown as the center of a stained glass panel. The durable hand painted artwork is kiln fired into pre-cut stained glass pieces. Hand painted stained glass pieces are available in many colors and designs. Since each one is custom painted, I can match your decor and design style. Glass paintings can be personalized with names, dates, sayings, occasion, etc. These panels make wonderful center pieces for cabinet doors for use in the kitchen, dining room, etc.

Price: Please Call - 3 1/2"x5 1/2" diamond glass, plus 4 crescent pieces make up a 4"x6" artwork center (shown used in a customer's panel)

Questions or comments? Click here to contact me. Or call

.
Page 11.4