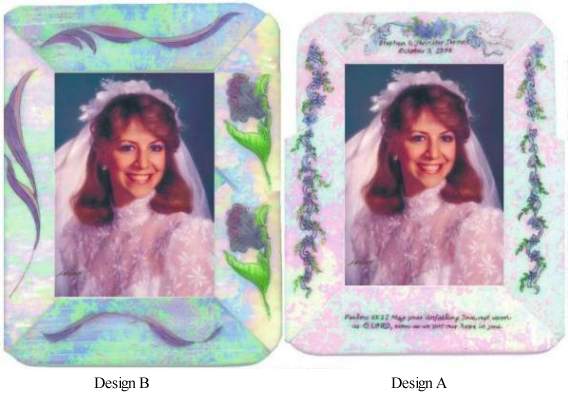 Picture (photo) frames featuring hand painted, kiln fired custom artwork on stained glass. Frames can be personalized with names, dates, sayings, occasion, etc. Hand painted stained glass frames are available in many colors, designs, sizes and shapes. Since each one is custom painted, I can match your decor and design style. The frames shown have a floral motif, and are sized to display a 5x7 inch photo.

Price: A or B, Please Call - Picture frame kit (Design A) - 6 painted pieces, (Design B) - 4 painted pieces. Call for prices on complete picture frame kit (all parts) or for prices on finished picture frames.

Questions or comments? Click here to contact me. Or call

.
Page 5.1